GUILDFORD BEER FESTIVAL 2023
Friday 21st & Saturday 22nd July 2023
Thirteenth Annual Guildford Beer Festival
The Thirteenth Guildford Beer Festival took place at Guildford Cricket Club on 20-21 July 2023.  Thank you to those who attended!
We had a record attendance at the opening session on Friday evening.  The new layout for the event was well received, as was the usual wide range of local real ales and craft beers, gins and spirits from four distilleries, and ciders and wines.
The date for the GBF in 2024 will be announced towards the end of this year.  Watch this space or click HERE to join our Mailing List.
"Come and join the team delivering this fantastic event!  We rely on volunteers and we really look after those who help us – fantastic camaraderie and great fun.  All our staff receive training, a GBF T-shirt and tokens for a meal and drinks.  There are also sorts of roles, not limited to serving in the bars."
Charley Teale, GBF Chair
We are also interested in hearing from local charities and voluntary groups.  Bring a team to work for us at the GBF and we will make a generous donation to your organisation.
To find out more, email us at info@guildfordbeerfestival.co.uk and we will contact you.
Musicians Interested In Performing In 2024
The GBF is well-known for the quality of its live music offering.  At the GBF in July 2023, there were performances by nine local bands and artists, which were enthusiastically received in the Andertons Music Tent. 
Tom Worrall is the GBF's Music Director and he is interested in hearing from up-and-coming local bands and acts.  You are welcome to contact Tom at music@guildfordbeerfestival.co.uk.
Thirteenth Annual Guildford Beer Festival
As usual the event takes place outdoors in marquees at Guildford Cricket Club – very close to the town centre at Woodbridge Road, Guildford GU1 4RP. 
Tickets are on sale from 1st March 2023.  There are three separate sessions: Friday evening, Saturday afternoon and Saturday evening.  You purchase tickets for each session you wish to attend.
There will be the usual wide range of local real ales and craft beers, gins and spirits, and ciders and wines.  A wide choice of food will be available, with vegetarian and vegan options.  There is live music throughout the event.
Keep an eye on the website for updates about the event and follow us on social media. Click to join our Mailing List.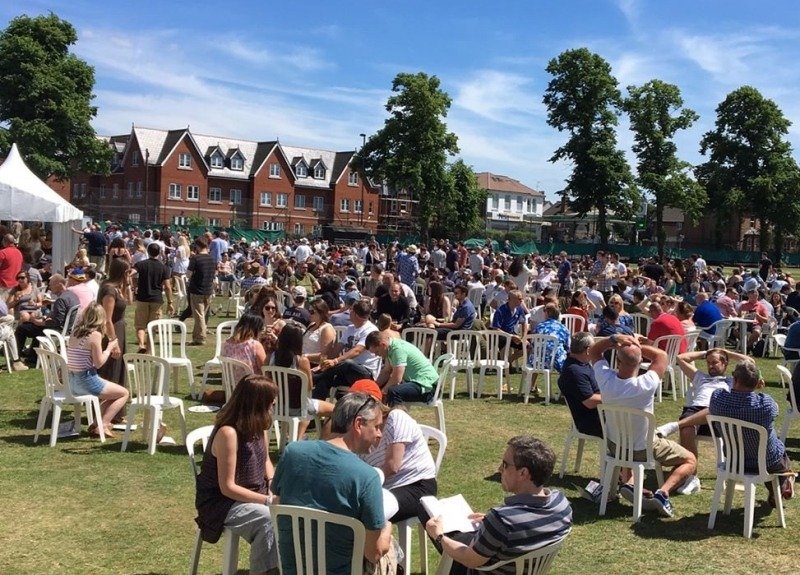 The thirteenth Guildford Beer Festival will, as usual, be hosted by Guildford Cricket Club at their grounds in Woodbridge Road, Guildford, Surrey GU1 4RP. The venue is very close to the town centre with excellent transport links.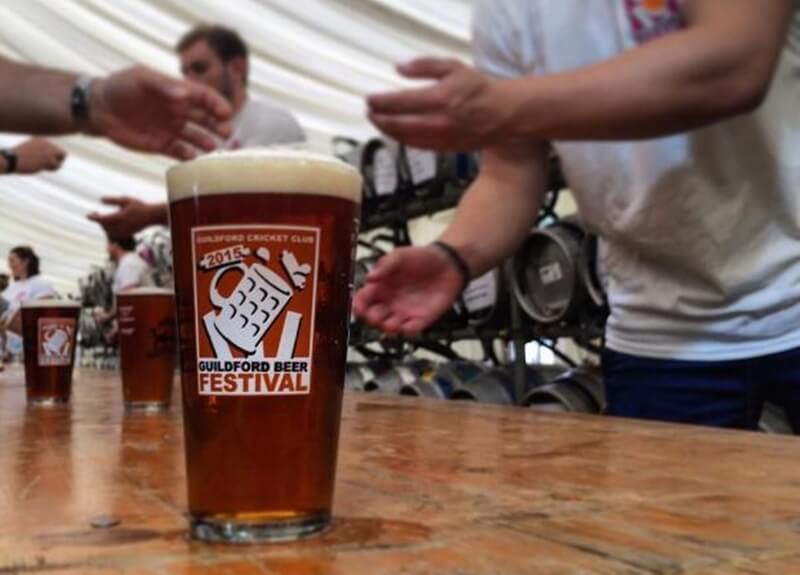 All Real Ales are here. The layout is by BREWERY. As you look at the beer barrels, breweries A-L are on the left. Breweries M-Z are on the right. Therefore, all the different beers supplied by ASCOT BREWERY are on the far left, and those from TRIPLE FFF are on the far right.
SECOND BEER TENT & FOOD COURT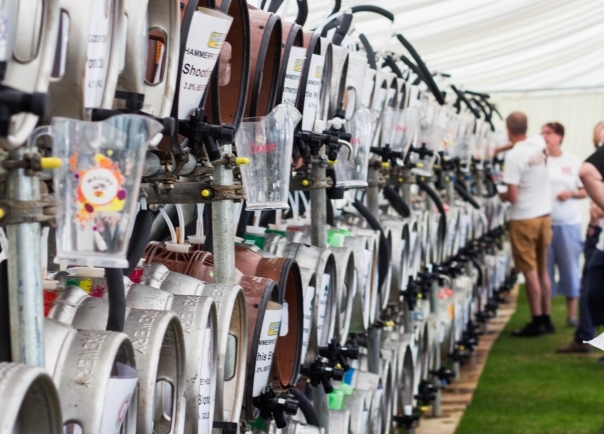 Second Drinks Tent This is adjacent to The Anderton's Music Tent. This year Chilled Keg CRAFT BEERS AND LAGERS are here, along with CIDERS, WINES AND SOFT DRINKS.

Food court There will four separate food stands offering a wide selection of food, including vegetarian, vegan and gluten-free options. Note that: you pay for food using tokens.
The venue is very attractive and there is ample seating in marquees and outdoors. There is free car parking. Entrance The pedestrian entrance to the Guildford Beer Festival is from the Pavilion End. Please make your way to the Guildford Pavilion and enter the site from here. The entrance by the Railway End gate will be for cars only.
Be The First To Hear About Guildford Beer Festival News
Sign up to our festival mailing list